The Margaret Fergusson British Cultural Scholarship Fund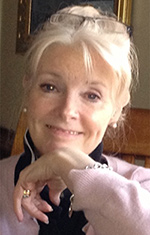 Margaret Fergusson was born in London, England and moved to Charlotte with her family in 1995. She was the Founder and Chief Executive Officer of the House of Andrachelle, an haute couture soft furnishings company that specialized in British goods. Margaret joined the Board of the British American Business Council in 1996 and became President of the BABC in 2005. Margaret served as Co-Chair of the Cross-Cultural Education Committee from 2008 until her untimely and sudden death from cancer in May 2013.
Based on her own experiences as a young woman, Margaret passionately believed that giving young people in her adopted home of Charlotte the opportunity to experience the culture and history of her home country could be life transforming. She was especially focused on helping kids who did not have the means to experience this type of opportunity, but certainly had the ability to be considered.
To honor Margaret's passion for cross-cultural education and her commitment to building relationships between the United Kingdom and the United States, in December 2013, the BABC Carolinas Board of Directors authorized the formation of The Margaret Fergusson British Cultural Scholarship Fund (MFBC Scholarship Fund) for the purpose of securing long term, tax deductible, corporate and individual donations to support the funding of our scholarship programs.
The Margaret Fergusson British Cultural Scholarship Fund is a non-profit organization.
Tax-exempt under IRS Code Section 501(c)(3). ID Number: 46-4355352. One hundered precent of all donations go directly to the funding of our scholarship programs.
If you would like more information about making a contribution or recommending a cause that aligns with the mission of the BABC and the MFBC Scholarship Fund, please contact us here!
about our scholarships
British Studies Summer Program Scholarship
The British Studies Summer Program (BSSP) is a two-week travel and study program conducted each year by the ACS International Schools in London. The Program was created to explore the enduring impact of British culture. Established in 1996, the program is committed to the ideal of creative, multi-disciplined education. The close interaction of students, teachers and locations furthers this approach and generates an enthusiastic forum for collaborative learning.
Through the immediacy of on-site experiences, students are encouraged to explore, comprehend, and more importantly to connect seemingly disparate monuments, art and events from British history.  Making sense of the past brings history to life, turning learning into a voyage of discovery and laying the foundation for a lifelong understanding and appreciation of the lasting impact of British culture.
This amazing, life-changing program is offered to 30 high school sophomores and juniors from across the United States each year, sponsored by British American Business Council Chapters, including BABC Carolinas, who has funded almost 50 scholarships over the past 16 years.
Learn more about ACS International Schools and the British Studies Summer Program:  https://www.acs-schools.com/British-Studies-Summer-Progamme
How can I apply?
Submit a 90 second, digital presentation answering one of the following two questions:
Which aspect of Britain or British culture interests you most?
Which British person, past or present, would you most like to meet? Explain why.
The contest is open to all Charlotte-Mecklenburg high school sophomores and juniors. We encourage students who have not traveled to the U.K. or Europe to enter. Application form and complete contest guidelines are available from your high school counselors, or via the CMS Partnership Office in early fall. Deadline for submissions is January 31st. The 2018 trip to the U.K. will run from July 15th – July 28th.
If you would like to receive the application form for the 2018 British Studies Summer Program, CLICK HERE, to be added to the mailing list.
The Choir School at St. Peter's – Cathedral Tour Scholarship
Every four years, the MasterSingers have the rare opportunity to sing in the great English Cathedrals and help continue a centuries old Anglican musical tradition.  This life-changing experience gives them the chance to experience the British culture and history that they've studied in school and to sing in extraordinary venues, often experiencing music in its original setting.
Given the cost of the trip and the fact that many of the children in the choir are scholarship students, the leadership of the Choir School asked the BABC for support of their program, given our mission of promoting cross-cultural ties.
The Margaret Fergusson British Cultural Scholarship Fund donates $5,000 towards the funding of this program every four years.
About the Choir School
The Choir School at St. Peter's is a nonprofit, ecumenical organization dedicated to helping young musicians explore, achieve, develop and mature against the backdrop of a world-class music education. Originally conceived as home to a Boys Choir in the classic European tradition, the school expanded in 1998 to include the Girls Choirs and again in 2003 when the MasterSingers Ensemble was established. Today the program includes five distinct choirs whose members range in age from seven to eighteen.
Our students fully represent Charlotte's broad diversity – families with means and families struggling; families who have lived in Charlotte for generations, others who have come to this country recently; homeschooled students and students who attend both public and private schools; children in perfect health, others living with disabilities.
The Choir School offers a foundation – one that includes vocal skills, musicianship training, language skills, poise and finesse. It also offers them the opportunity to be part of something bigger than themselves. To become someone who can be counted on. Someone who works hard and keeps trying when a goal seems beyond reach. Someone who knows how it feels to be truly excellent.
Choristers are admitted to the program without regard to race, religion or economic circumstances.   Support from over 300 individual and corporate donors makes it possible for The Choir School to remain tuition-free.